B.Ed. Special Education Visually Impaired
Training College for the Teachers of The Visually Impaired
Recognized by The Rehabilitation Council of India, New Delhi,
and
Affiliated to Vidyaagar University, Midnapore
INTRODUCTION:
Vivekananda Mission Asram has been rendering services since 1962 following the great ideals of Swami Vivekananda, the living exponent of the Teachings of Sri Sri Ramakrishna Dev and Sri Sri Ma Saradamoni Devi. In all the spheres – Education, Health & Spirituality, the motto of the Mission is one – 'Man Making' irrespective of caste and creed. Training Units for the Teachers of the Visually Impaired are the important links in the chain of Educational Institutions both for normal & Visually Impaired run by the Vivekananda Mission Asram at Viveknagar.
Since 1978, Mission Asram has been nurturing comprehensively the education, training, rehabilitation, eye health care setting up Residential School for the Blind (H.S.), Vocational Training Centre & Eye Hospitals, Training College for Teachers delivering the holistic services for making the Visually Impaired person a useful citizen of the society. It is one of the best Institutions in the country for execution of the persons with Disabilities Act – Equal Opportunity,Protection of Rights & Full participation of the Disabled.
Mission Asram expresses deepest gratitude to Rehabilitation Council of India, New Delhi & Vidyasagar University, Midnapore, for their immense help towards opening the B. Ed. Spl. Ed. (V. I.) Course, from the session : 2014 – 2015.
Approval Order No.:       
i) RCI: 8-404/B.Ed.Spl.Ed.(VI)/13/RCI 3507 dtd. 09.12.2013
ii) 8-352/B. Ed. Spl. Ed. (V.I.)/13/RCI 3179 dtd. 12.06.2015
iii) V. U.: VU/R/244/2014 dtd. 18.02.2014.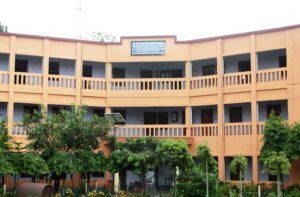 Objective:
i) To promote education for the Visually Handicapped through-out the state as well as the country through Integrated as well as Special School set up.
ii) To undertake an assessment of the aptitude and abilities of the trainees.
iii) To elevate the standard and innovate better technique of teaching for the Visually Impaired.
iv) To make more people aware of the different types of educational pattern for the Visually Impaired.
v) To prepare teachers to be committed to their performance for the all round development of the Visually Impaired Students.
Location:
The Training College at Rampur (Viveknagar) close to Chaitanyapur is situated on the North-West of HALDIA PORT. It stands on the Chaitanyapur-Kukrahati Road and  may be reached from Chaitanyapur More by Cycle Van or by 6/7 minutes walk.
Route:
i) Esplanade/Kolkata – Roychak by Bus No. 210; Roychak – Kukrahati by 10/15 minutes Ferry; Kukrahati –  Mission  Asram by Bus (10 minutes).
ii) Howrah/Kharagpur – Mechada by Train (S.E.R.).    Mechada–Haldia by Bus  (Via – Chaitanyapur), Chaitanyapur – Asram by cycle Van or 6/7 minutes walk.
Intake Capacity:
30 (Co-educational) & 15% of the N.R.I Students.
Categories of Selection:
i) General        : 16
ii) SC               : 07
iii) ST              : 02
iv) Disabled     : 01
v) OBC – A      : 02
vi) OBC – B     : 02
Mode of Selection:
1st: Advertisement  in between  February and  March of every         year in the leading Bengali Dailies along with the Internet up-loading inviting application in the prescribed format.
2nd : Interview/counselling of short listed candidates : 2nd/ 3rd week of June.
3rd: Publication of final list of candidates for admission into the Course.
4th: Admission : 4th week of June/July
Note : Sometimes accommodative admission schedule is followed to execute the special order of RCI
Commencement of the Session:
July/August every year
Duration of the Course:
Two years.
Class Hour:
Morning (regular)
Afternoon Classes (2/3 days a week)
Special Classes – As and when arranged.
Examination:
i) Assignments/ Project/ Presentation/ Field Report.
ii) Internal Assessment, Attendance, Test & Observation.
iii) Practical & Theoretical Four Semester Exams.
Lecturers:
i) Qualified four whole-time Lecturers.
ii) Part-time Lecturers and Guest Faculties for specific topics.
Uniform:
(a) During Class Hour :
i) Gents: White Shirt & Steel Gray (Slate) Full Pants.
ii) Ladies: White Sari with Slate colour Border & Slate colour Blouse.
(b) During Mobility and Games & Sports Class:
i) Gents: White Shirt & Slate colour Track Suit.
ii) Ladies: Kamiz – Slate colour; Salowar & Orna–White.
(c) Winter Garments : Sweater & Muffler only (Slate colour).
Accommodation :
Two Separate Hostels
One for Gents & other for ladies. Trainees themselves have to do their own chores.
Visitors: No visitors are allowed inside the Hostel Campus and during the class hour.
Leave and Vacations:
(i) Sundays : Off day
(ii) Holidays: List published by the Institute.
(iii) Attendance is mandatory : Theoretical – 80%, Practical – 90%, Internship – 100%
Cultural Programme:
Trainees have to participate in some celebrations like National Days, Teachers' Day, Some special observances.
Discipline:
(i) Every Trainee is expected to abide by the rules and regulations of the center as in force from time to time, so that a high standard of discipline may be maintained. Steps are taken particularly in regard to damage to property, irregularity in attendance, failure to return to the Institute on the expiry of leave, leaving the premises without permission etc. For any breach of discipline or orders, the Trainees are liable to removal or dismissal or such other measure as the concerned authority may decide or deem fit.
(ii) Attendance is compulsory for all in the Prayer
Assembly of the Training Centre  &  presence in the evening prayer services at the Muktidham is must particularly for hostellers.
Educational Tour:
An Educational Tour to visit some pioneering Organisations working in the field of Education, Training and Rehabilitation of the Handicapped may be arranged. Expenses will be borne by the Trainees.
Co-curricular Activities:
Apart from the Syllabus all trainees shall have to attend Music, Physical Education, Craft & Indian Culture classes specially arranged by the Institution.
Magazine:
Trainees have to bring out one Wall Magazine during the course in each year.
Library :
Training College has a library well equipped with books and journals pertaining to education for visually impaired children.
Certificate:
On successful completion of the course every trainee will be awarded a Certificate.
Conclusion:
A healthy competition and Co-operation is expected from every one. Any sort of untoward exposure and indirectly hankering after internal marks are treated as disqualification. All are to reveal their latent qualities to become a good teacher.
Reception:
Vivekananda Mission Asram extends a life building welcom to you. Let your life be attuned with the man making ideals and messages of the Great Swami. So long you stay over here feel Swamiji, think Swamiji, say Swamiji, sleep Swamiji, work Swamiji and whatever you are, wherever you are, be in Swamiji – you will be empowered with boundless self reliance, the effect of which will make your life meaningfully cool, calm & tranquil and very very effective. He is the perennial source of incredible inspiration.
" Sarve Atra Sukhina Santu
 Sarve Santu Niramayah
Sarve Bhadrani Pashyantu
Ma kaschit Dukhamapnuat. "